Storage Master
Understairs storage
Under Stairs and Attic Storage Solutions for Your Home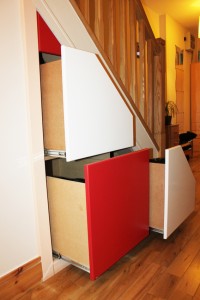 Storage Master is an Irish based business with nationwide success designing and fitting under stairs and attic storage units for the Irish residential market.
Storage space is at a premium for nearly everyone these days. Since most of Irish people live in small or medium-size homes, demand for extra storage space has increased at every home, no matter its size, every house has potential storage space that goes unnoticed, we can provide smart solutions to use that space.
  Storage Master can enhance your home, and your life, by transforming unused areas and helping you maximize storage. We do not mass produce our drawer units, we tailor/design and make each unit especially for your staircase.
Our professional storage solutions will help bring purpose to every space in your home. From under the stairs in to the eaves of  your attic to a corner in the family room, we are expert in uncovering hidden potential and helping you get more from what's already there.
Storage Solutions For Any Area – Even The Unusual Spaces
Under  Stairs: This space doesn't even have an official name!  Design a area to store shoes, jackets, toys, vacuum cleaner, School bags and much more!
Attic:  Transform this area into a functional space that you can use for anything, from a kid's play room to a craft room.
Wardrobe: Improve this space with smart solutions to organize and access your clothes more convenient way.
Toddler room: Upgrading kids room can be helpful to keep them organized, also can improve room space with smart storage solutions.
No matter what storage solutions best suit your needs or space, Storage Master can help add value and functionality to your home.
For any questions and concerns contact us by email: info@storagemaster.ie
Lowest Price including installation and prime finish!